- Products - PI Benelux B.V.
Former PI Benelux principal TMC joins the Laser2000 family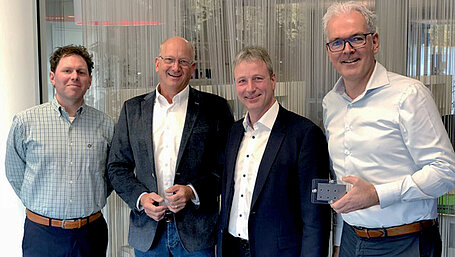 It's a good match, according to Dick Moerman, managing partner at PI Benelux. "The past few years the focus of PI Benelux shifted more and more towards our motion and positioning technologies. With our attention aimed at principals, it made sense to look for another advocate for TMC. Laser2000 was the perfect candidate."
To affirm the transferal, Laser2000, TMC, and PI Benelux met early November. After the official part, Moerman gave director Pieter Kramer and account manager Davey Loos of Laser2000 a Perspex cut-out of an optical table. One of the products TMC is renowned for. Moerman: "TMC has always been a most esteemed partner of PI Benelux and we are content to see that the future of TMC in the Benelux region is in capable hands."
Steffen Roerentrop, salesmanager for TMC is pleased with this new step his organization is taking. As is Kramer: "TMC is a premium brand and its products fit perfectly in our portfolio."